Featured Articles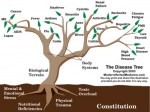 The Disease Tree™ is one thing that sets the School of Modern Herbal Medicine apart from other training programs. This comprehensive framework helps a person understand where disease comes from and how to approach it from a holistic perspective rather than a symptom-treatment perspective. It also gives structure to everything a person learns about disease, health, the body, remedies, and assessment techniques.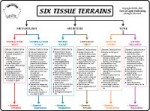 The biological terrain is the internal environment of the body and is the common demonimator in the entire disease process. Understanding biological terrain is key to understanding the basic actions of herbs and how to select effective remedies. This article introduces the six tissue states and corresponding basic actions of herbs.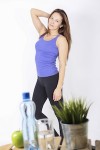 Have you ever noticed that little children and sick animals tend to shun food when they are sick?  There is a reason for this. Fasting or avoiding food for a period of time is actually a powerful aid to healing, not only from acute disease, but from chronic illness as well. The famous saying of Hippocrates, "Feed a cold, starve a fever," actually means "If you feed a cold, you will wind up having to starve a fever." This article, extracted from a chapter of my book, Coming Clean, explains the many benefits of fasting.
---
Featured Courses and Programs