---
Start Developing Effective Strategies for Chronic Illness with Steven Horne
with Steven Horne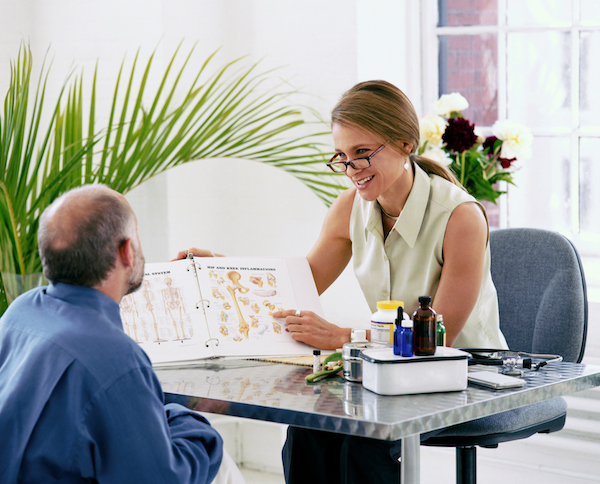 Learn how to work with a person to identify the root causes of their health problems and develop effective natural healing strategies for them with Steven Horne in this three-part webinar
Click Here to Learn More About Developing Effective Healthing Strategies for Chronic Illness




Product Companies in Modern Herbal Medicine
We've finally started taking pre-orders on our new book, Modern Herbal Medicine. On one of the forums I belong to someone asked how I knew all the companies we selected for the book produce high quality products. The answer is, we don't, because we haven't personally used all 1264 herbal formulas listed in the book. As the introduction to the Companies Section of the book states, "All of these companies are required to follow FDA GMP guidelines, but this doesn't mean that all of the companies manufacture to the same standards. We have not toured the manufacturing facilities of these companies, nor have we personally used all of their products." So, I encourage people who use the book to try different brands and see which ones that give them the best results, because the goal of the book was to create a guide for the consumer to "comparison shop" for herbal formulas and products, not to endorse every company and formula in the book.
The way I decided what brands to put in the book was by looking at the products carried by Whole Foods, Natural Groceres and some other major health food stores.  I also went to Expo West in Anaheim (the big convention for the health food stores) and looked at the companies promoting herbal products to health food stores. I did try to talk to representatives of the various companies in the book to get information from them about their company and quality control, as well as to verify we had their product ingredients listed correctly.  Some co-operated, others didn't because their legal departments advised them it was best not to provide us with any information, so we had to rely on their websites.
Having said all that, I do have my favorite brands. The brand I trust and use the most is not a health food store brand, it's a network marketing brand. That company is Nature's Sunshine Products.  I have toured their plant and have personally used and recommended their products to my clients for many years. Even though they aren't a health food store brand, I put a few of their products in the book because they fit niches other companies didn't address. But then, I have a whole separate book just on that company—The Comprehensive Guide to Nature's Sunshine Products.
In my personal clinic, ABC Herbs, I carry tinctures from Herbalist & Alchemist and Herb Pharm. Both of these brands are run by professional members of the American Herbalists Guild and I trust their quality and have had good results with their products. David Winston, who started Herbalist and Alchemist, and Ed Smith, who started HerbPharm, are two of the best herbalists in the country.
I have also purchased herbal products from Gaia Herbs at the local health food store (because I like their liquid gel caps) and have had some of their products in my clinic in the past. I think they are also a good brand.
In the past, I have used a few products from Planetary Herbals and Solaray.  I haven't used Solaray in recent years, so I don't know if their quality is the same, but when I used them in the past I was satisfied with the results I got. Planetary Herbals also has some big-name AHG herbalists associated with it, so I would trust the quality of their products as well.
I've never used Christopher's or Grandma's Herbs products. I've met and talked to David Christopher and Joseph VanSeters, the people behind these companies and I felt very comfortable with them. I almost left Grandma's herbs out of the book because they aren't a major health food store brand, but they are located here in St. George and I have toured their plant and they do have some products in categories where there aren't a lot of competitive formulas. I also know Daniel Gagnon of Herbs, Etc. He is also a good herbalist and someone I personally trust, although again, I've never personally used any of his products.
Olbas, Tiger Balm and White Flower are all companies that sell topical analgesic products.  I've used them all. Of the three, I like White Flower the best, but I personal like Nature's Sunshine's Tei Fu oil better than all of them. I do like Olbas cough drops, though.
I'm not a big tea drinker, so I'm not very qualified to evaluate the tea companies. I have used some of Celestial Seasonings and Traditional Medicinal's teas and I've been happy with them, although I think Traditional Medicinals is probably a better company for medicinal teas than Celestial Seasonings. I have not used any of Yogi Tea's products, but since K.P. Khalsa was their formulator (and he's the current president of AHG and a top notch herbalist and highly ethical person) I would trust their products.
I have no personal experience with Eclectic Institute, but from what I've heard they've got some very good products. I've personally used a couple of Irwin Naturals products (again because they have liquid gel caps, which I love) and felt I got good results with them.  I haven't used any NOW Food products, but I understand they have really good quality control. They don't carry a lot of herbal products but do have a lot of other supplements.
Finally, I met the people from RidgeCrest Herbals and Urban Moonshine at Expo West in 2013, and decided at the last minute to add both companies because I got to talk to some of their key people and I really liked them. I got the Urban Moonshine bitters and I love them and have started carrying them and recommending them to clients. I also got to meet the guy who owns Western Botanicals and actually toured his plant two years ago. They seem to have very high integrity and quality control, so I added them at the last minute.
I know Sunny Mavor who founded Herbs for Kids (and beat me into the marketplace for children's herbal products, by the way, because I had too many personal problems to get Tri-Light or Limited Edition into the marketplace like I wanted to. I like Sunny, she's a great professional herbalist (but I personally think my children's formulas are better, just have never had a reliable manufacturer to make them the way I want them done, unfortunately). Herbs for Kids was bought out by Twin-Labs and I have no idea about the current quality of the product.
I also have no personal experience with Nature's Answer (although I had a great talk with their professional herbalist on the phone), A. Vogel, Nature's Herbs (TwinLab), New Chapter, Renew Life, Vitanica, Yerba Prima or Zand, so I can't give you any personal information about any of them. Also, although Nature's Way is one of the biggest herb companies in the health food store, I have had limited experience with their products and what little experience I've had I haven't been very impressed, but that could be because I'm so biased in favor of Nature's Sunshine Products. Finally, I have used and recommended Swedish Bitters from NatureWorks (which is a classic herbal formula).
We have more companies than these in the database we created. If all goes well we hope to have this database available online in the member area of herbiverse.com.  I'd like to be able to provide a way for practitioners to leave comments on companies and formulas so we can start evaluating the best formulas and brands. But, that's another huge project, and right now I'm just anxious to get Modern Herbal Medicine out into the marketplace.
So, that's my personal take on all the companies in the book. Feel free to experiment and see what brands you like best.