The School of Modern Herbal Medicine
Distributor School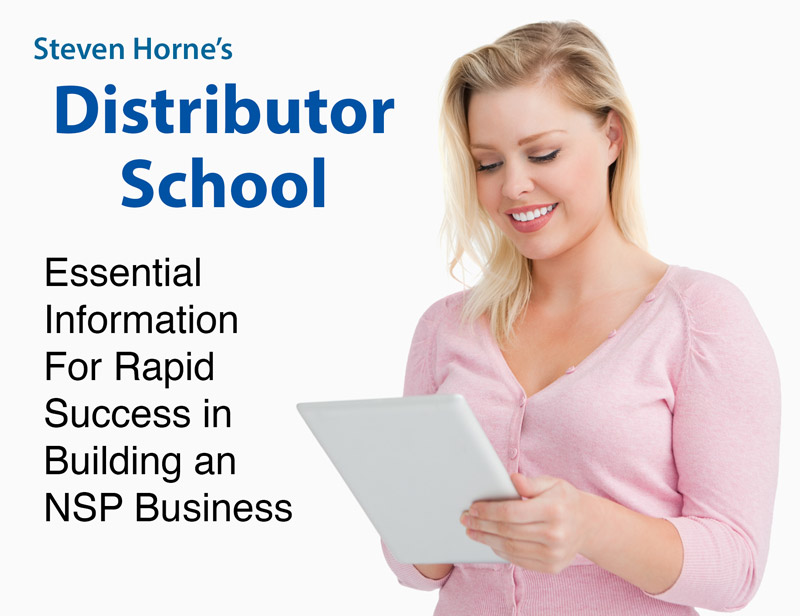 In 1988, while working for Nature's Sunshine Products (NSP) as their Sales Training Manager, Steven created a program called Distributor School, a one day class designed to help Distributors learn the basics of natural health. He built in a system of tracking to compare the performance of people who attended the school with the average new distributor for NSP and was able to document that those attending the training had much better results than the average Distributor.
Having been an NSP distributor himself, Steven understands how intimidating the NSP product line can be to a new member or distributor. He also understands that for most people, it's difficult to recommend products to help others if you lack confidence in what you know. So, education is critical to the success of people who are new to NSP. That's why he's creating this training program to help.
Steven's unoffical Distributor School will teach people the essential products and health knowledge needed to successfully recommend a core set of valuable and unique NSP products. It will also teach people the basic business and marketing skills needed to start sharing this information with others.This is not a "rah-rah" high pressure approach to selling, but rather a low key, educational approach to making people aware of the benefits of the products and building credibility with others.
The program starts with a free preview class where Steven discusses why NSP is a great company with which to work, as well as the basic strategies he has found that work and don't work in building a business as an herbal and/or natural health consultant. Click here to access the free preview.
The Seven Sessions in remainder of the coure are:
Lesson One: The Roots of Health
From it's very beginnings, Nature's Sunshine has offered a variety of products for cleansing and aiding the gastrointestinal (GI) tract because many herbalists have recognized that general health begins with healthy digestion and elimination. In this first lesson, Steven will explain the critical importance of GI tract health to overall health and wellbeing, covering topics like digestive enzymes, low stomach acid, leaky gut and intestinal dysbiosis (imbalances in the friendly flora of the gut). He'll discuss the key NSP products that help these issues and provide educational marketing tools to help you share this information with others. He'll also briefly cover basic nutrition.
Lesson Two: Coming Clean
At one time, the majority of products in the top ten best-selling products in NSP were colon cleansing products. Cleansing has always been a core therapy in the herbalists arsenal and one of the first third-party educational programs Steven ever produced was on colon cleansing. His understanding has grown much since that day, but knowing when and how to do a good cleanse is still a core skill for any NSP distributor. So, in this session, Steven will cover the problem of toxicity, how to recognize when a person needs a cleanse (and when they don't) and cover the major cleansing products in the NSP product line. Again, he'll also provide educational marketing tools to help you share this information with others.
Lesson Three: The Stress Factor
Our emotions play a big role in our health. Chronic feelings of anger, grief, depression and fear, as well as long term unresolved emotional stress, take a toll on our health. Fortunately, NSP has many tools that can help people relax and return to a more balanced emotional state. In this session, Steven will discuss the how stress plays a role in our health problems and introduce the major NSP product you can use to help people overcome their stress and find their way back to a more happy, centered place.
Lesson Four: Shielding Your Body from Disease
The primary focus on modern society in preventing disease is to focus on attacking germs and with good reason. The discovery of microbes and improved sanitation has resulted in dramatically reduced deaths from contagious diseases over the last 100 years. However, in all our focus on germs, we've neglected the other half of the disease equation—body's natural immune defenses. In fact, some of the things we've done to attack germs have actually resulted in a weakening of the body's immune defenses, giving rise to immune imbalances like allergies and auto-immune reactions. In this lesson, Steven will talk about how to fight acute disease by strengthing the body's natural defenses and how to build a strong immune system that shields you from both acute and chronic disease with NSP products.
Lesson Five: Maintaining the Metabolic Engine
On one level, the body is like a machine. It takes energy to operate. Fuel, in the form of food, must be burned or metabolized in order to produce the energy the body needs to operate. The wrong kind of fuel, however, will clog the metabolic engine resulting in loss of energy and chronic illness. Over half of Americans suffer from an underlying imbalance in this process known as metabolic syndrome. Metabolic syndrome is the precurser to diabetes, heart disease, high blood pressure, deterioration of the brain causing memory loss and numerous other diseases associated with aging. So, understanding what metabolic syndrome is, and how to reverse it (or better yet, avoid it) is critical to maintaining good health and an underlying key to overcoming most chronic illnesses. Steven will tackle this subject in this lesson and discuss the NSP products sthat can help to restore balance to the metabolic engine.
Lesson Six: Maintaining the Balance of Health
One of the most powerful, and unique, group of products in Nature's Sunshine is its line of Chinese herbal formulas. Understanding these products and the simple philosophy behind them, will help any herbalist be able to achieve great results with many people. These 15 traditional Chinese formulas have been the foundation of Steven's own clinical practice for three decades and have helped numerous NSP distributors build their business. Steven will explain these formulas and the philosophy behind them in this lesson, as well as provide tools to help you share these products with others.
Lesson Seven: Herbalism Made Easy
Steven firmly believes that herbs have been, and always will be, the medicine of the people. He believes that everyone ought to know how to use basic herbal remedies to maintain their own health, and the health of their family. This means that any person of average intelligence is capable of learning how to use herbs to solve most common health problems. Steven's primary quest in his years of study and teaching in this field has been to make it easy for people to learn how to use herbs effectively. In this final lesson, Steven will explain the six basic imbalances in the body and how the twelve basic categories of herbs correct these imbalances. He'll also introduce the biological terrain charts for Nature's Sunshine, which will form the foundation for Manager School course in his NSP Academy.
Steven Horne's first Distributor School will start on February 16, 2017. Webinars will be broadcast at 5:00 PM and 7:00 PM Mountain Time on Feb 16, Mar 2, 16, 30, Apr 13, 27 and May 11. All webinars will be recorded and posted in our online learning center in both video and audio format. Handouts, quizzes and materials to help students promote what they have learned will also be posted in our online learning center. Students who complete the course will receive a certificate of completion. 
The course price includes a copy of The Comprehensive Guide to Nature's Sunshine, which is the manual for the class. The course fee is $97 plus the shipping cost for book. You can register online at treelite.com (our website providing third party educational materials for Nature's Sunshine managers and distributors) or by calling 800-416-2887.